Nextcloud Hub 4 is the latest release of the popular on-premises open-source collaboration suite. It comes with new features and enhancements to existing Nextcloud apps, making it a powerful and comprehensive platform for productivity and collaboration.
In this article, we will explore some of the key new features of Nextcloud Hub 4.
New: Nextcloud Tables
Nextcloud Tables is a versatile, on-premises, and open-source application that offers an alternative to Microsoft SharePoint. With this application, users can easily track relevant data specific to their organizations, such as sales leads, expenses, and projects.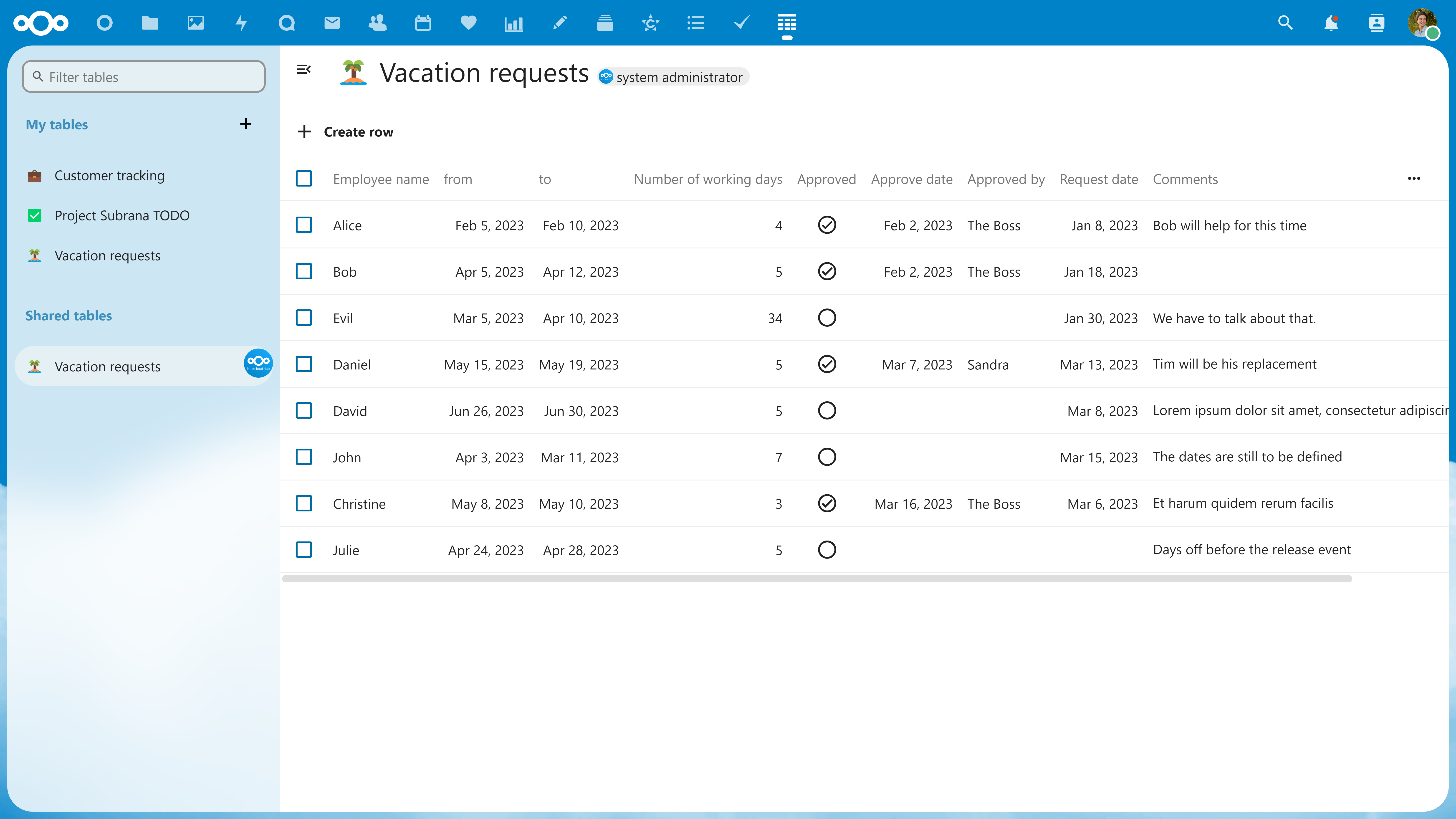 Nextcloud Tables allows users to build, manage and work with data structures, and create customized applications by connecting them to other components in the Nextcloud ecosystem for automation. Its flexibility makes it possible for users to personalize tables according to their specific requirements.
Upgraded: Nextcloud Notes
Nextcloud has announced that its community Notes app has been upgraded to Nextcloud Notes and will now be part of Nextcloud core itself. This means that users can now take advantage of many improvements and the mobile apps for both Android and iOS will now be available for free.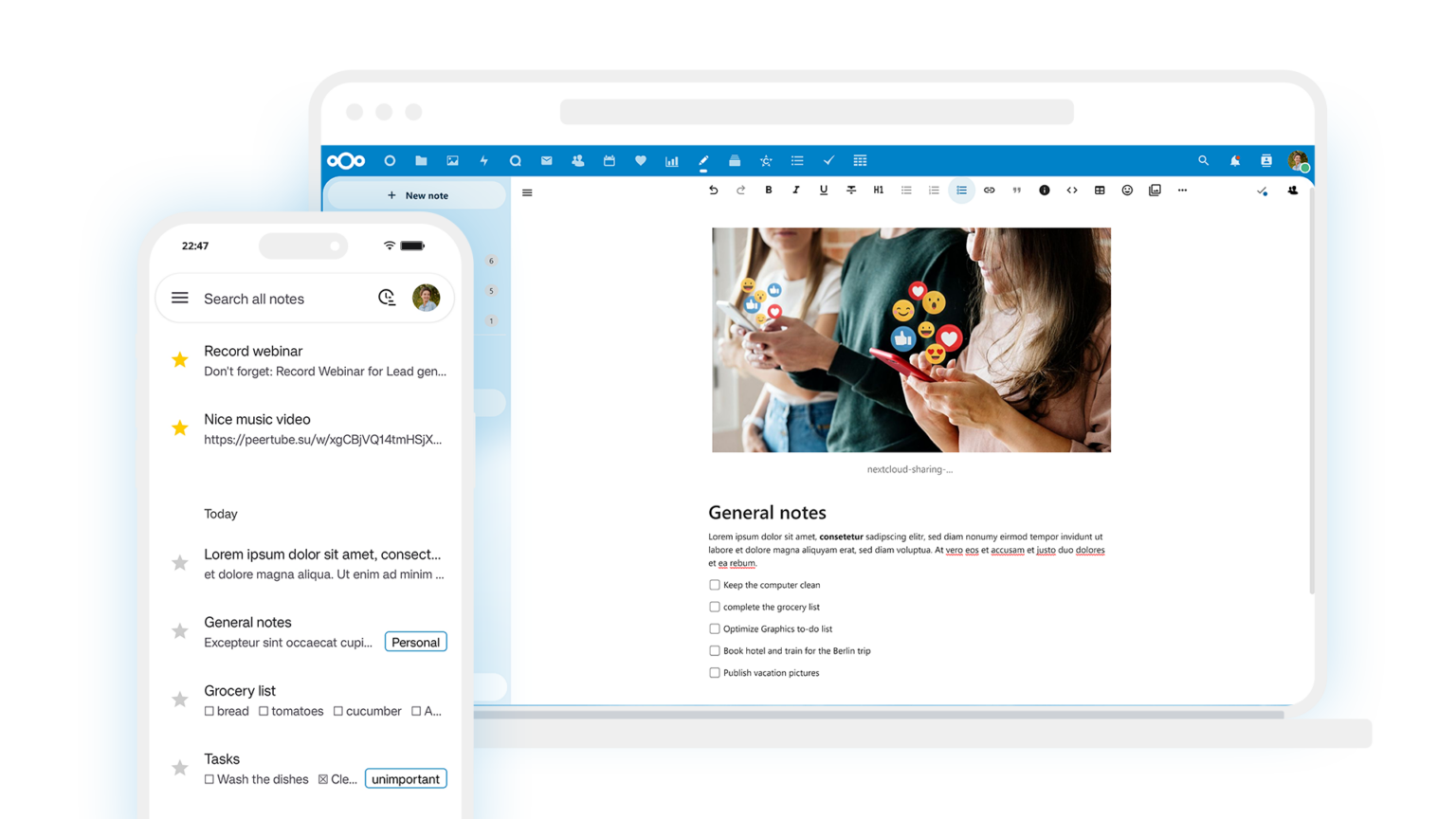 Notes are widely used for various purposes, such as planning vacations and taking notes during meetings, and often these notes are hosted by big tech companies like Google and Apple. Bringing Notes into Nextcloud will provide a more secure and private option for users.
In addition to making the mobile apps free, the Notes app now uses Nextcloud Text, which includes features like the Smart Picker, enabling users to insert videos, tables, documentation, and even location data.
Updated: Nextcloud Files
Advanced Versioning
Nextcloud is introducing an enhanced versioning feature in Hub 4, allowing users to have more control over their data. With this new system, users can easily name a version, providing an easy way to access specific copies of files that were saved on certain dates and times.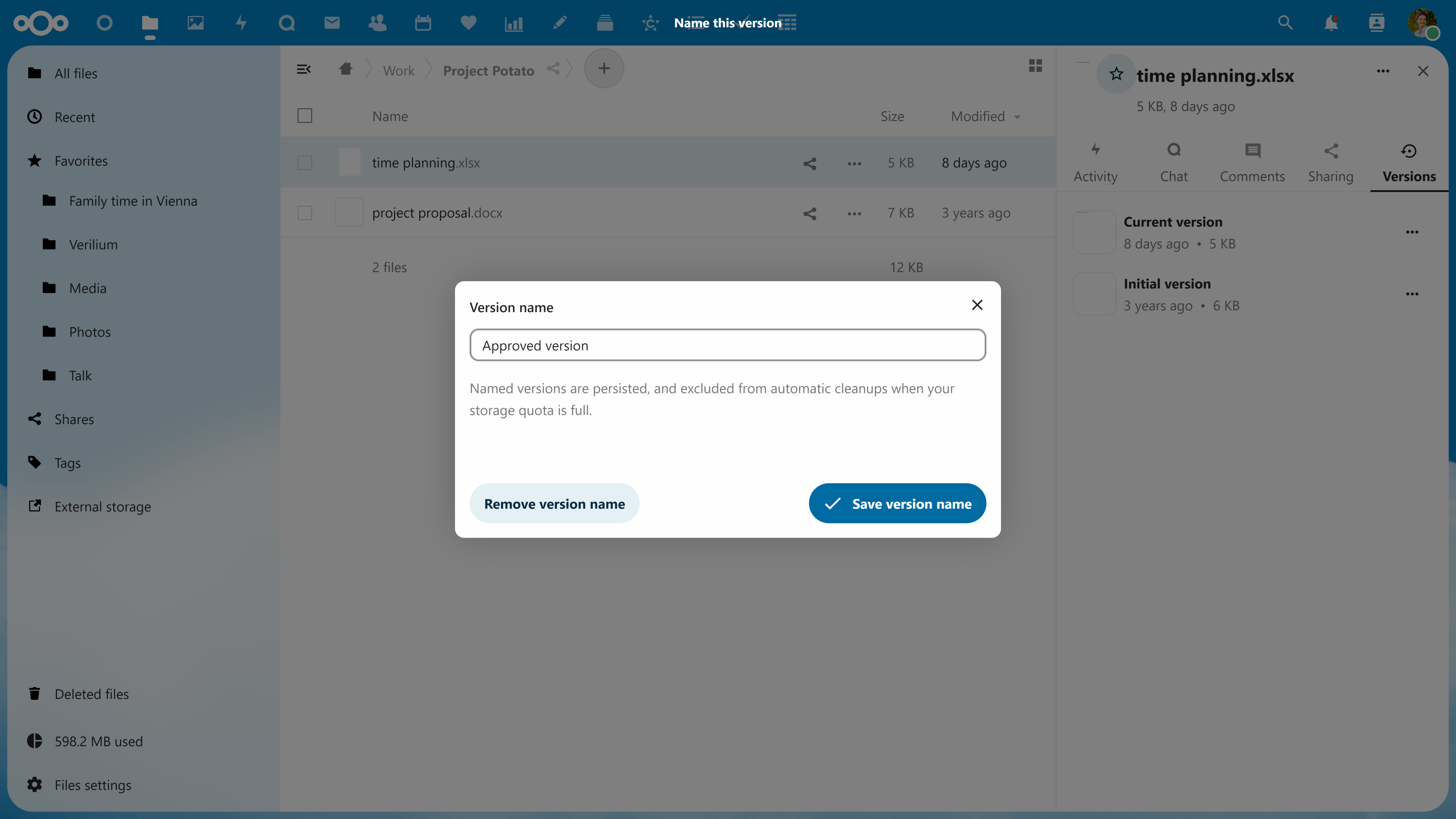 Nextcloud's time-based algorithm ensures that less precise versions are kept over time, such as one version per minute, hour, or day. This algorithm also helps manage available file storage by automatically cleaning up older versions when storage space runs low. However, named versions are always kept, ensuring that users can access important data whenever needed.
Desktop client & mobile apps
Nextcloud has announced major updates for its desktop client and mobile apps. A preview version of virtual files on MacOS is currently available for the desktop client, with a major release set to follow. The upcoming version of the desktop client introduces a default browser selection feature and allows users to create accounts from the command line, which can be particularly useful for larger organizations.
The Android files app now supports document scanning with multi-page support for PDF and PNG files. Meanwhile, the iOS Files app has received upgrades to document scanning, image editing before uploading, and office document editing. These updates aim to enhance user experience and streamline file management across different platforms.
E2EE improvements
Nextcloud Hub 4 brings significant end-to-end encryption (E2EE) improvements, offering enhanced security features for organizations that handle highly sensitive data. The new release introduces sharing capabilities for E2EE folders, enabling authorized team members to collaborate on sensitive documents while keeping them safe from unauthorized access.
In addition, File Drop now includes the option to upload files to E2EE folders, providing a secure and simple file exchange method for external personnel, clients, and partners. With these new E2EE features, HR departments can securely receive resumes from job applicants by sharing an encrypted folder with them, ensuring confidential information remains protected.
Updated: Nextcloud Talk
Nextcloud's latest release of Talk brings a host of new features to its video conferencing and chat platform. However, the most eagerly awaited addition is the introduction of a desktop client for Talk. Although still in development, the Nextcloud team is seeking feedback on this much-requested feature.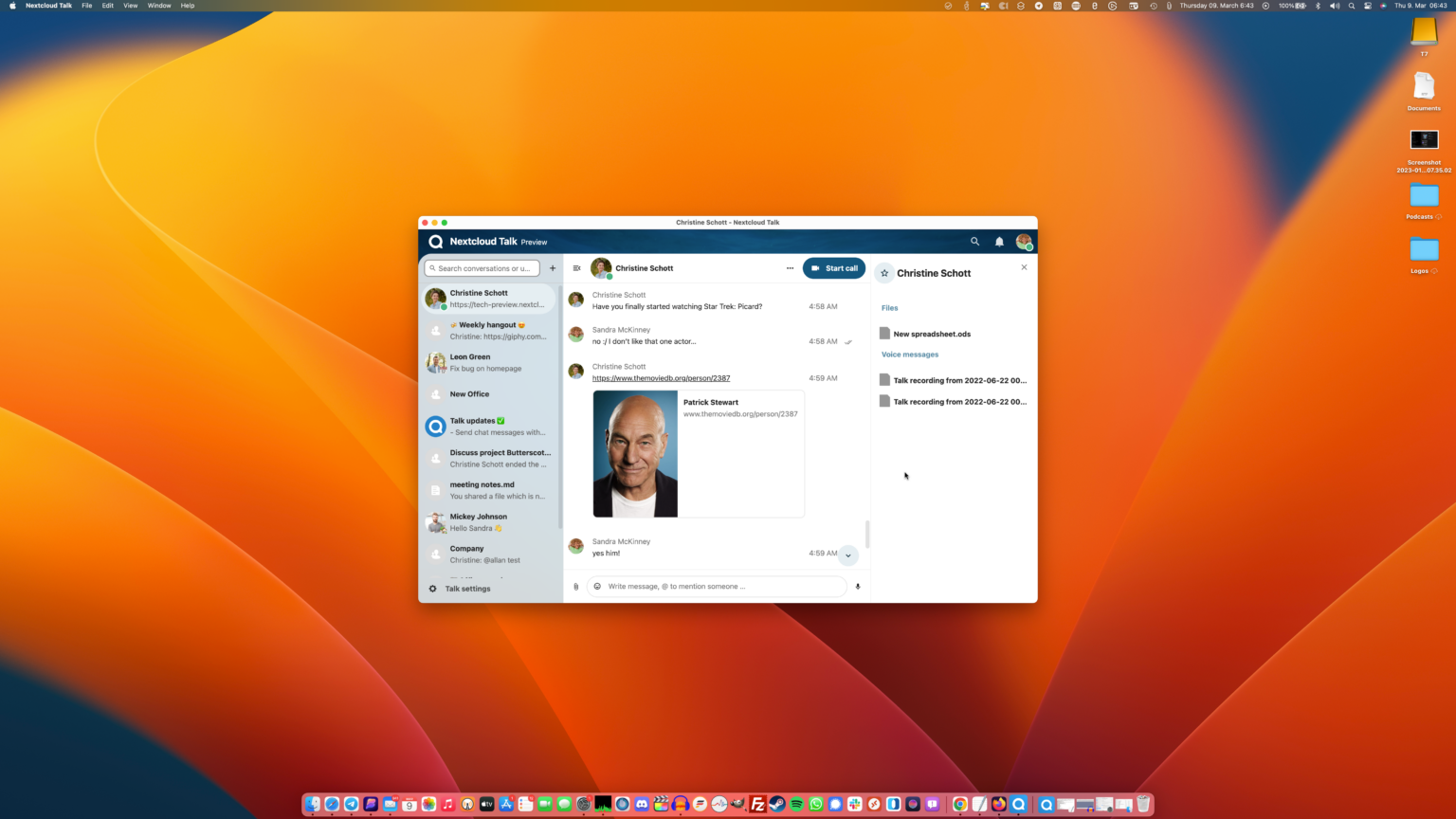 Beyond the desktop client, Talk now offers features such as "breakout rooms" for smaller group discussions, enhanced screen-sharing options, and the ability to record sessions locally.
Updated: Nextcloud Groupware
In the latest release of Groupware, Nextcloud introduces several new features to improve its suitability for large enterprises and government organizations.
One of the key new features is shared mailboxes. This enables organizations to more efficiently manage their teams and workflows, as multiple users can access and manage a shared mailbox.
Additionally, Nextcloud Groupware now supports S/MIME (Secure/Multipurpose Internet Mail Extensions) for digitally signing and encrypting messages. This provides an extra layer of security for email communication, ensuring that sensitive information is not compromised.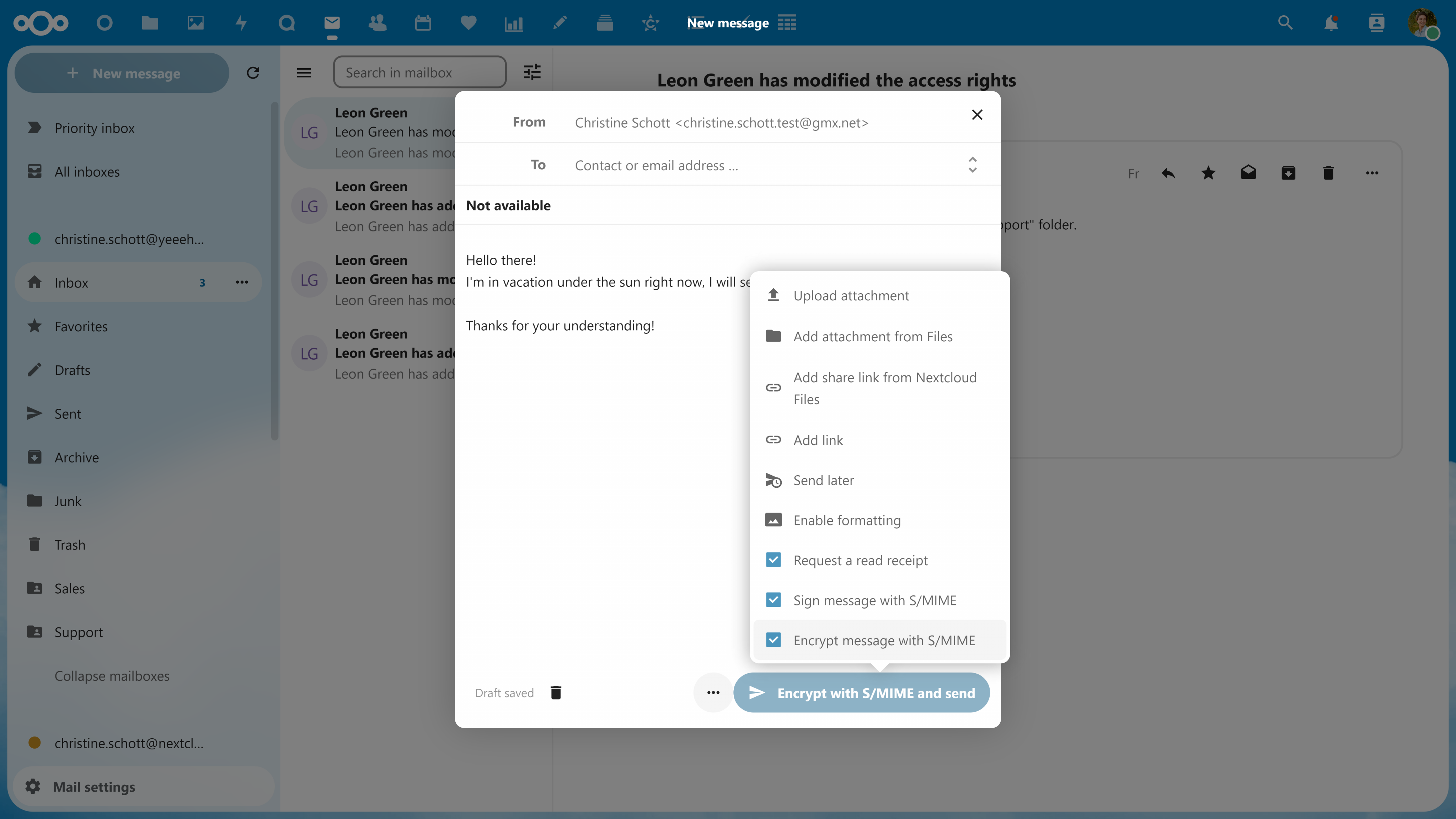 Updated: Nextcloud Office
Nextcloud Office has received significant upgrades in its integration and performance, document compatibility, and UI design. Among the new features is real-time cursor tracking, which enables users to see who else is working on a document and view their additions and corrections as they happen.
Another enhancement is the introduction of Collectives, which helps users create new collectives and move pages between them more efficiently. Additionally, Collectives is now linked to Nextcloud Files, allowing users to easily locate the files that make up a collective and identify the collective associated with files.
The text editing capabilities of Nextcloud Deck, the project management app, have also been improved with the integration of Nextcloud Text functionality. This enables users to add rich content more easily and take advantage of the new Smart Picker. Other features added to Deck include live editing of boards by multiple users, the ability to export boards to CSV files, and the creation of new tags when assigning them.